Solomon – Our "Wisdom Whisperer?"
Dear TSJ Peeps,
First, allow me to share some TSJ trivia that reveals the love that flows here at headquarters.
Since Sunday was Father's Day Solomon suddenly decided to write Mr. John a letter.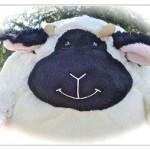 He was sensitive to Mr. John's place on a day- in a new marriage – that honors fathers in a family who lost a beloved father. Solomon understands matters of the heart and life in real pastures where real things happen.
Further, both Mr. John and I were very weary from spending many hours sorting "stuff" and doing all one does to get a home filled with memories ready for sale.  So we chose to spend the day quietly and gave ourselves a true sabbath rest. But I digress.
Solomon approaches nearly everything as a possibility to foster psychological and spiritual growth.  As you know, he reminds us we are always in the care of our divine Shepherd.  So he sees fathers and mothers as surrogate shepherds.  We are shepherds-in-training ourselves.
So, when Mr. John and I read the Solomon letter we were quite surprised that Solomon called himself TSJ's "wisdom whisperer." We liked that description of his role in our lives and decided to accept it for ourselves here at TSJ.  So, today when we showed the TSJ office to a new person, John introduced her to our Solomon by saying, "This is Margie's wisdom whisperer." I feel sure I saw Solomon smile even more broadly than before.  SJ and Sigmund were also introduced and John's sister-in-law found them quite delightful.
She also saw a beautiful quilt made by a dear friend that is on the back of the futon.  She was very moved by this quilt (as are we) and the talent and care clearly involved.  The quilt has the Shepherd's Psalm (23), and we stood pondering how much love went into it.  It was made a few short months before Mr. Tom went to New Pastures.
Since I have been referring to the TSJ headquarters I thought I might share with you again  a quote – one worth repeating every day –  that says, "Don't worry about tomorrow, God is already there." This was given to me when I was very concerned about living without Mr. Tom.  But its truth is good for all of us all the time – especially for those of us who are prone to worry.  Worry makes life harder than it already is.
So Solomon seems to be constantly addressing this truth to me.  I swear he has once again pointed me to several of my favorite authors for reminders.  One of my favorite authors for spiritual reflections that are honest and provocative is Henri J. M. Nouwen.  Interestingly, this very morning I read the following quote on page 65 of a compilation of some of his writings called The Only Necessary Thing..living a prayerful life. 
"One of the notable characteristics of worry is that it fragments our lives. ….worrying causes us to be 'all over the place' but seldom at home . . . We know where we belong, but we keep being pulled in many directions, as if we are still homeless."
Henri says, "The many things to do, to think about, to plan for, the many people to remember, to visit, or to talk with, the many causes to attack or defend, all these pull us apart and make us lose our center." [Italics are mine.]
I hope you too can hear the whisper of wisdom here as you examine your own life.  It is so easy for us Americans to be fragmented. It is true that we often feel spiritually homeless.
Lately Mr. John and I have experienced the pull of needing to be in two homes at once.  Moving causes most of us a sense of chaos, fragmentation and stress.  And we have missed feeling centered in one home here with our little TSJ wisdom whisperer and helpers. This is temporary, but it does serve as a reminder of a spiritual truth. Our heart is our home, and our mind takes us everywhere else.
So it occurs to me that worry does exactly what Henri says… it leaves us feeling homeless or not centered in a state of peace, confidence, trust and safety.  Most of our worrying comes from underlying fears about losing "power and control, safety and security, and affection and esteem" – our three primary energy drivers. (Paraphrased from Richard Rohr's Daily Meditation June 21 from Center for Action and Contemplation)
Henri Nouwen further says, all those things fragment us and keep demanding our attention –  "They lead us so far from home that we eventually forget our true address, that is the place where we can be addressed."
I know when I finally land home from a trip, that is the address you can best reach me at.  When I take time for contemplating and centering, my heart is the place where God can address my needs.
How about you?  What is your address?  Can you be addressed there?
Let us replace worry with good soul renewing nutrition to find new energy and worry less about what lies ahead because what lies within is  powerful. Contemplation and prayer do not mean passivity and religiosity.  Rather being centered in faith and trust in our Shepherd fuels compassion and provides energy for action.
Operating from home base turns discouragement into encouragement.
Solomon says, "Exactly. I like it when  you are home more."
Margie