Hello Dear TSJ Peeps!
By now, summer is officially here – once again!  Some of you have retired. Others of you are just plain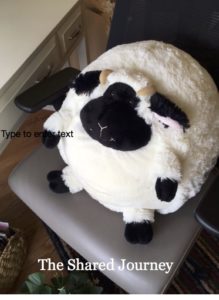 tired!  So, here is to wishing everyone some moments to kick back and enjoy life.
We all need a new view from time to time!  Solomon had that opportunity this week and perhaps I did too!
And today's blog is just for fun.
We all need to be light in more ways than one –  a light to help others find their way perhaps, but we also need to be light in our spirit; though life can be pretty heavy to bear at times.
Today is our late Mr. Tom's birthday, and his take on life almost always had a light touch.  
Daughter Amy said it for us all when she texted, "June 28th will henceforth be celebrated as Tommy Day!"  Our family is happy in our memories as his cheerful voice echoes in our ears. We love that voice!  Many of you TSJ fans do too and it makes us happy.  That just may be our wisdom reminder of the day right there! Perhaps his greatest legacy of all is leaving us with smiles. And his hats!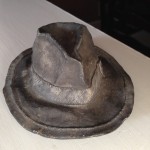 So …. bear with us as Solomon  and I share our story of the week with you today.
One evening this week one of our teacher friends and TSJ fan came over for some relaxation and conversation.  We were both so tired we just sat in the recliners as old friends can do. Mostly we watched Mr. John through the window building some steps for our back porch as we drank tea and talked about nothing in particular.
The next day when I went into my office, Solomon was sitting in my chair looking straight at me!  His little eyes were sparkling ( I was not able to capture them well on the picture for you) and his smile seemed unusually smug.   I laughed out loud.
It took me a minute to figure out how he got there.  My friend had snuck into the office before she left and placed him in "Ms. Margie's chair."  Solomon was quite smug about that.  I have placed him in Mr. Tom's chair in years past and once at my computer, and though he has had several other views, he reminded me that I have never put him in my chair.
It seems that he was almost chiding me about that. So I hugged him and let him sit there the rest of the day.  He is now back on his stool, but he has met some new people this week and is happy.
Well, I reasoned, "A new view can be good and our friend felt sorry that you were in the corner when you deserve a place of prominence."
When I wondered what this change of view brought to him, he rather carefully explained, "I  could see out the window and now know what you mean when you say you have to go out and care for posies the kind neighbors gave you."
And I thought I detected a wistful something-or-other tone in his voice.
He admitted that it made him "a teeny tiny bit jealous for just a very few seconds."
"Why?" I asked.
Lowering his eyes (always a sign of emotional reflection) he said, "When I looked out the window I saw another sheep looking all cute and friendly."
FYI, he saw the butterfly-catching sheep another dear friend and TSJ fan had left  as a surprise for us many weeks ago.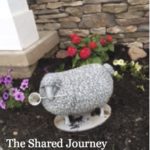 This was good for Solomon.  Even though he is a true wisdom whisperer, he relearned the power of experience as a generator of wisdom- if mixed with truth, knowledge, love and compassion.
Solomon had to sit in my chair to see new things and experience new feelings.
Usually, he offers wisdom from a perspective taken from ancient wisdom and his experiences as a lowly sheep. His gift is being a quick student of his shepherd who talked with him about Chief Shepherd.  We are different creatures with a common denominator. That is our love for God, nature and each other. That common denominator inspires and compels us to learn with and from each other.
However, Solomon was reminded true wisdom cannot just be theoretical or theological or anything smacking of being at all superior.
So he said he stopped himself right away and remembered the Good Shepherd always talked about serving, sacrificing for others and remembering that the apparently little or insignificant things in the world please God,.
He immediately let go of thinking at all about comparison between the sheep in the garden and himself.
But I did explain lovingly that in a way they are like us humans.  They are both sheep (not peeps) so in that way they are similar. But like Mr. John said, "They have different constitutions. Ms. Garden Sheep is made for the weather (hard plastic cover) so rain will not ruin her as it runs right off. If Solomon sat in the rain he would get soaked and lose his soft touch.They are made of different stuff for different purposes.."  Solomon liked that. So do I.
And he humbly got the point.  It is . . . after all . . . what he has whispered in my ear for years.  Each one of us is made to be loved and cared for by Chief Shepherd, and each one of us has our own ways of spreading the Love of God.
Fortunately he also experienced this truth in action.  When John's stepdaughter and family came to see us, they first saw the garden sheep with the butterfly net.
When they entered for a short tour of our TSJ headquarters and mentioned the sheep in the garden, Mr. John immediately said to them, "You must meet  Solomon!" (They had children so this seemed natural.)
The garden sheep opened the way for us to talk about Solomon and his message..
And you-know-who smiled happily. (Solomon and Mr. Tom and Chief Shepherd!)