Hello TSJ Peeps!
"Welcome Back' are beautiful words to hear when one returns home safely from a journey or from the hospital or anyplace that takes us away from friends and loved ones. And it is that time of year when teachers are saying that to students and to colleagues. Time away for restoration is needed and time back together is also special. Here is what Solomon wants to say today.  He likes to keep things light and happy, yet honest and hopeful.  And so do I.  So before he takes over, I too welcome you back and look forward to reconnecting.  I am back in the swing of my favorite thing to do… listen and encourage others through my life coaching practice. As you know, I believe a shared journey is the healthiest and happiest way to travel through our days.  Now for Solomon's turn to speak . . . .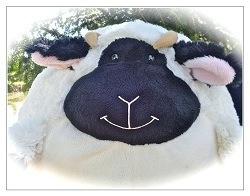 "Hi Peeps!"
It is me, "Solomon!  Remember me?  Did you miss me a little bit?  Well, I am sure some of you did and even if you didn't that is okay because I missed you.  You keep me feeling purposeful. So I am smiling big and happy to welcome  you back to TSJ Wednesday Wisdom.
You see, I have been waiting . . . and waiting some more. . .  for Ms. Margie and Mr. John to finish up some of their important work projects so we could spend more time together and they did make great progress. . But just when they felt like things were progressing there I had to wait again. They took a long train trip to Oregon.  And they were excited about being about camping overnight in a place called Madras, Oregon to see the moon cover the sun. That is a good thing, but what was not such a good thing is they went without me! And they camped in a field overnight. And I like fields.   After all I am a sheep!  But they did not have room for me in their carry on bags on the train.  So Solomon Junior (SJ) and monkey mentor of human psychology (Sigmund) and I, the wisdom whisperer in TSJ headquarters, helped Ms. Margie's son, Mr. Tim, keep track of the house and office. It was okay but not very exciting."
Oh well, it was a good time to rest up a bit. Ms. Margie sometimes needs lots of thinking help.  But I love being important here at the headquarters and am so very happy again.  We can think about important life lessons and share personal stories with each other, and with TSJ readers too.   So Welcome Back!
We all love our TSJ peeps "
Solomon
SJ  &  Sigmund
Finally, one of many things I have been pondering lately are the words, "God's Love Never Quits" from Psalm 136 (as translated by Eugene Peterson).
I think those words can be music to our ears in months ahead as we share love with all of God's children and each other.  Love is a verb. One could say Love itself never quits. But I believe the Source of Love is God. And I find comfort in that.
I have been seeing the truth that love never quits while talking with teacher peeps who are ready once again to love, teach, and learn from their students in this new school year. You have our applause from TSJ headquarters and our prayers for the journey.
Seeing my twelve year old twin grandkids on Monday reminded me of just how precious life is and how quickly we grow into adulthood and how much kids really do look forward to seeing their teachers again as well as their friends.  It refreshed my soul. And Solomon was tickled to hear Mr. John and me be so warmed by their joy.
Solomon said to remind you to enjoy playing in the fields!
Margie